Our Legacy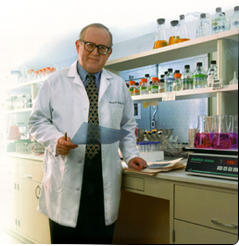 The story of the Gerald P. Murphy Cancer Foundation (formerly known as the Pacific Northwest Cancer Foundation) rests squarely on the legacy of an extraordinary man — a pioneer in the early detection and treatment of prostate cancer. Our founding Director, Dr. Murphy, discovered the basic science leading to the development of the PSA test — the current standard for detection of prostate cancer.
Gerald Murphy grew up in Seattle, studied at Seattle University and later received his M.D. (1959) from the University of Washington. In Baltimore, he became the Chief Resident (1966-1967) at the Brady Urological Institute at the Johns Hopkins Hospital under his beloved mentor, William W. Scott. In 1968 he moved to Roswell Park Memorial Institute and in two years became the institute's Director where he served for 15 years during a vibrant period of growth (1970-1985), followed by three years as Professor of Urology at the State University of New York in Buffalo. Gerry became the Chief Medical Officer of the American Cancer Society in Atlanta (1988-1993). In 1993, he moved back to Seattle where he became Director and President of the Pacific Northwest Cancer Foundation and Clinical Professor in Urology at the University of Washington.
Gerald Murphy was a most prominent international leader in oncology, serving for 25 years as the Secretary-General of the International Union Against Cancer. In the early 1970's he was instrumental in the congressional studies that led to the National Cancer Act, and in 1972 President Richard Nixon appointed him to the first National Cancer Advisory Board.
His host of international honors includes the Papal Medal for Distinguished Service, eight honorary doctoral degrees, plus dozens of other medals and citations. His prolific achievements are documented in the over 1,200 publications and 15 books he authored throughout his career, including a 21 year run as Editor-in-Chief of The Prostate.
On January 20, 2000 Gerald Murphy died unexpectedly of a heart attack at an International Conference in Tel Aviv, Israel. The Board of the (then) Pacific Northwest Cancer Foundation, with full support from his family, elected to change the name of the research foundation to honor his legacy. After a worldwide search, Dr. David J. Waters, a noted Veterinary Oncologist and leader in the emerging field of Comparative Oncology, was appointed Executive Director of the newly re-born Gerald P. Murphy Cancer Foundation. The choice reflected a bold commitment to apply innovations in basic scientific research to the direct and immediate application of clinical cancer treatment and prevention with the goal of mutually benefitting both humans and animals.